Facilities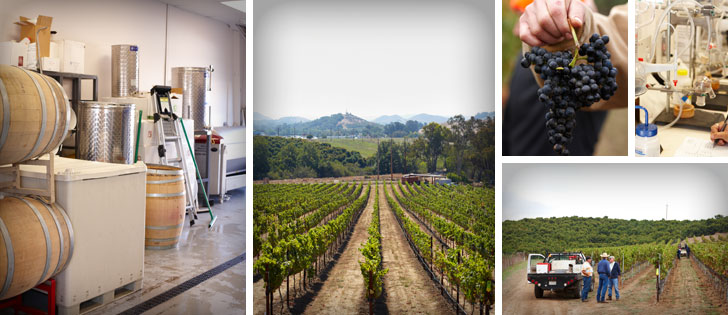 Current Facilities
Cal Poly has its own 14-acre vineyard which provides students an excellent opportunity to practice the Learn by Doing method of education. The Trestle Vineyard features six acres of Pinot Noir, three acres of Syrah, almost one acre of Tempranillo, and three and a half acres of Chardonnay.
The Trestle Vineyard is a member of the Central Coast Vineyard Team that promotes environmentally and economically sustainable vineyard practices on the Central California Coast. The vineyard allows students to practice site evaluation and development, pest management and state-of-the-art cultural practices.
The Pilot Winery also offers an excellent opportunity to practice the Learn by Doing method of education. This small scale winery located in a renovated space in the Crops Unit gives students hands-on experience using industry-grade winemaking equipment. The 10 to 12 ton capacity pilot winery houses a cool room, presses, a de-stemmer and elevator, steam generator, bottling line, tanks, sinks and work areas.
Since its inception in 2004, the Wine and Viticulture Department has outgrown its physical space and needs to be housed in a larger facility. Cal Poly proposes the creation of new facility on campus to be called the JUSTIN and J. LOHR Center for Wine and Viticulture (opening Fall 2020).
The Center would replace the existing Pilot Winery, with additional classrooms, laboratories (including a wine and viticulture lab as well as a sensory test lab), meeting rooms, an event room and area for wine information, cellar, storage and bottling areas, and rooms for wine business and student presentations. It will be located on Mt. Bishop Road, where there is already ample parking. The building and surroundings promise to provide water balancing with gray water harvesting for irrigation, storm water reuse for the restrooms and permeable paving. It should be energy balancing as well, with photovoltaic panels, solar thermal panels, geothermal energy and a green roof. The new center will use recycled, local and renewable building material as much as possible, and will be a model to other programs in the U.S. of environmental sensitivity.
The details of the 20,000 square foot Center have been preliminarily designed through a series of charrettes held with industry, faculty, students and staff by architect and Cal Poly graduate, Douglas Thornley of Gould Evans Baum Thornley, Inc. and the Horticulture and Crop Science Department Head, John Peterson. Pending completion of these meetings and initial architectural schematic designs the fund-raising goal has been set at $8 million.
Complete this form for any and all WVIT Department Vineyard facilities requests. Vineyard use requests will be reviewed on a rotating basis twice a month. 
Related Content