Department Facilities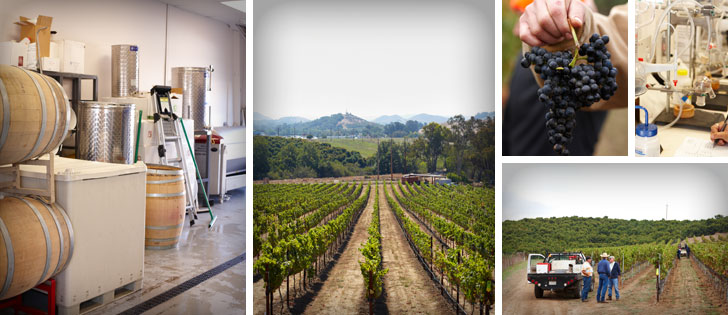 JUSTIN and J. LOHR Center for Wine and Viticulture 
The next big step in hands-on learning for students in Cal Poly's College of Agriculture, Food and Environmental Sciences and the Wine and Viticulture Department is the creation of the leading-edge JUSTIN and J. LOHR Center for Wine and Viticulture. Fundraising for the $22 million, 100-percent donor-funded, future-forward building is nearly complete. The Center, which includes a 5,000-case bonded 15,600-square-foot Winery and the 12,000-square-foot E. & J. Gallo Winery & Family Building, is set to open in summer 2021 and will serve as the learning hub for our wine and viticulture program. 
Visit our JUSTIN and J. LOHR Center for Wine and Viticulture website to explore the facility, watch a livestream of construction, and learn how you can be a part of this groundbreaking teaching and research space! 
Trestle Vineyard 
Cal Poly's 14-acre Trestle Vineyard, which includes the H. Paul Fountain Teaching Vineyard and the Commercial Vineyard, provides students with invaluable Learn by Doing opportu­nities. Replanted in 2015, the vineyard was intentionally designed to allow for hands-on teaching in site evaluation and development, pest management, and state-of-the-art cul­tural practices. The Trestle Vineyard promotes environmentally and economically sustain­able vineyard practices. 
Download the Trestle Vineyard Fact Sheet
for more information on vineyard blocks, course offerings and available naming opportunities.
Pilot Winery 
This small-scale winery located at the Cal Poly Crops Unit provides students with hands-on experience using industry-grade winemaking equipment while construction is completed on the JUSTIN and J. LOHR Center for Wine and Viticulture. The 10- to 12-ton capacity facility houses a cool room, presses, a de-stemmer and elevator, steam generator, bottling line, tanks, sinks and work areas.  
External Department Vineyard Space Request Form (PDF)
Related Content