Letter from the Department Head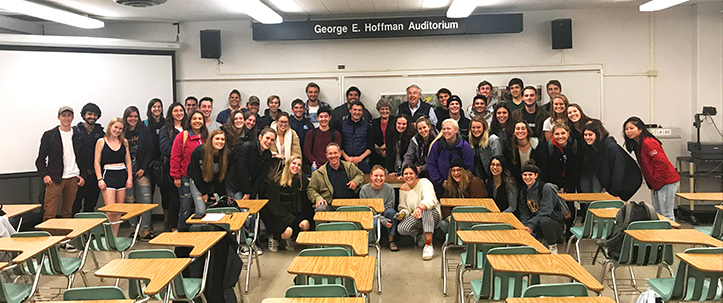 Five Productive Years of Team Effort
Dear Wine and Viticulture Friends, 
When I arrived on board in October 2015, we had to go through many challenges as a new department (created in 2013), recent program (2011), and recent major (2004). With our small but efficient team, we focused first on adjusting the viticulture and enology curriculum to face industry challenges. Then we developed two international trips: one covering the eastern part of France, Germany and Italy in 2018, and the other one, which was supposed to occur in 2020, was to focus on the western part of France, Northern Portugal and Northern Spain. The 2020 trip was postponed until 2022 due to the COVID-19 pandemic. We also recently partnered with Cal Poly Extended Education and the Sonoma State Wine Business Institute to offer the Wine Business Management online certificate program to the Central Coast wine industry. Finally, we traveled with the team throughout California and beyond to fundraise for our key capital project: the JUSTIN and J. LOHR Center for Wine and Viticulture.
Our program is the only program in the U.S. to integrate in depth the three key facets of the wine industry: viticulture, enology and wine business. To implement this from grape-to-glass mission, the Wine and Viticulture Department has its own teaching vineyard (Paul Fountain Vineyard) and commercial vineyard (Trestle Vineyard) that produced its first crop — close to 10 tons — in fall 2020. In addition, the department is selling commercial wines with the help of a team of wine and viticulture students, under the supervision of Lecturer Adrienne Ferrara. One of their major successes was to establish a wine club, which helped counter balance the sales decrease during COVID-19.
Finally, the new JUSTIN and J. LOHR Center for Wine and Viticulture will be completed during the 2020-21 academic year and will host the largest undergraduate program — close to 300 students — of its kind in the country.  
The Lohr Family Winery will be completed in fall 2020, and the E. & J. Gallo Winery and Family Building will be completed by the end of winter 2021. This $22 million project to modernize Cal Poly's wine and viticulture program is solely donor funded. The new Center for Wine and Viticulture includes a bonded 5,000-case production, teaching and research winery, as well as classroom and laboratory space providing students with a learning environment similar to what they will experience in the wine industry. To date, $19.3 million has been raised from donors spanning California's wine regions. Nine million dollars has come from donations ranging from $25,000 to $1 million. Ten donors have given at the $1 million-plus level. 
Additional giving opportunities remain, including the funding for the advanced fermentation research room and sensory lab. Anyone interested in donating should contact Allyson Dela Cruz at adelac20@calpoly.edu.
On behalf of the entire department, I thank all the donors for their ongoing support and generosity. Their donations represent for us a long-term investment we will use over time to develop the best Learn by Doing practices for our students so they can meet the manifold challenges of tomorrow. 
The COVID-19 pandemic allowed us to be more innovative and creative and adjust our teaching mode to virtual! Our labs of advanced viticulture, sensory analysis, blending (the winemaking series) and wine chemistry went online, even though years ago, we believed it would be impossible to do so!
Benoît Lecat
Department Head, PH. D., DIPWSET
---
Visit Vines to Wines Fall 2020 to read more stories.
Related Content