Vines to Wines Boasts an Eventful Year
Supervised by Faculty Advisor Shohreh Niku, the Vines to Wines (V2W) club had a strong start to the 2019-20 academic year that included informational club meetings, exciting guest speakers, amazing wine and great food!  
The club is intended for students in wine and viticulture who share a common bond to get to know each other and for those in the industry to share their knowledge and experience.
Although the COVID-19 pandemic put a hold on V2W spring quarter meetings, the officers remained diligent in communicating with fellow students and interacting with each other.
The 2019-20 officers, pictured below, passed the baton to the 2020-21 V2W officers. The outgoing and incoming officers celebrated this change via a Zoom call at the end of the 2020 academic year. 
In addition to an E. & J. Gallo informational session, the club's 2019-20 roster of guest speakers included: 
Andrew Murray and Mckenna Giardine, Andrew Murray Vineyards.
William Becker, Malene.
Tom Greenough and Mike Callahan, Saucelito Canyon Vineyard.
Stephen Dooley, Stephen Ross Winery.
Chase Carhartt, Carhartt Vineyard.
Riley Hubbard, Hubba and Desparada Wines.
Matt Brain, Baker and Brain.
Luc Bergevin, Foot of the Bed Cellars.  
Outgoing Officers from left to right: Emily Cross (Social Media Chair), Shelby Frey (Treasurer), Courtney Colerick (Vice President), Cole Meusel (Barbecue Chair), John Wheeler (President), Carter Jewel (Barbecue Chair), Allie Donegan (Barbecue Chair), Laura Kelemen (Barbecue Chair), Jessica Cerda (Secretary), Riley Jacobs (AG Council Chair), Not pictured: Marina Tacconi (Volunteer Coordinator), Melissa Mannon (Winemaker Showcase Chair).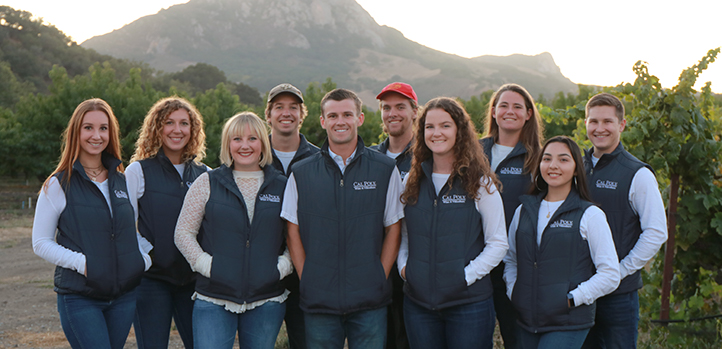 Elected 2020-21 V2W Officers
Faculty Advisor: Lecturer Shohreh Niku
Laura Kelemen - President
Jessica Cerda - Vice President
Jennifer Wooten - Volunteer Chair
Marina Tacconi - Secretary
Will Sandberg - Treasurer
Caitlin Mueller - AG Council Chair
Kiley Wood - Social Media Chair
Tabitha Ladendorf - Barbecue Chair
Lucy Moriarty - Barbecue Chair
Will Gray - Barbecue Chair
Francis Aquilina - Barbecue Chair
Shelby Frey - Barbecue Chair
---
Visit Vines to Wines Fall 2020 to read more stories.
Related Content